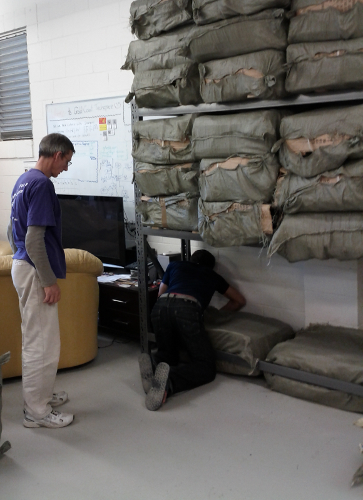 I am very happy to announce that Gold Coast TechSpace managed to raise $1709 for our shelving and storage project. Our target was $1500 and we will use the extra to go towards storage boxes & lockers.
We purchased the first of the racking on Monday and have already installed a couple to get some stored items out of the way. Additional money will be used towards storage boxes and lockers and once everything is in place I will make sure I post plenty of pictures for you.
A big thankyou goes to all our pledgers, a boast board (see draft below) will be attached to the wall next to the shelves and all those that pledged over $50 are clearly mentioned. I have also included smaller pledges at the bottom in smaller text right at the bottom as every dollar is greatly appreciated. Those that pledged $100 or more will be getting their personalised trophy once our 3D printers are all back on line in a couple of weeks, so please bear with us there.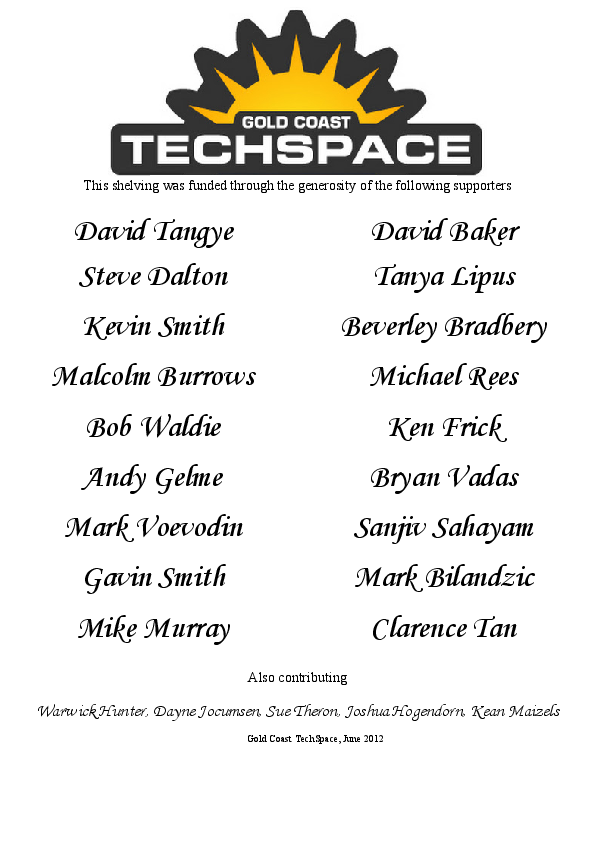 A special thankyou to those from other hackerspaces around Australia that helped us, I am really proud of the way that the hackerspace community has come together recently and it is a great community. Please come and visit us at Gold Coast Techspace - we hope to have a Hackerspace passport stamp soon too.
Despite a few issues with the UI and in particular the payments system I would also like to thank Andy and Bryan at iPledg for giving us the platform to raise these funds. The project was a big learning opportunity for all of us. We were able to find quite a few bugs in the system and I learnt a thing or to about promotions - Andy was a great help here, calling me almost every week with words of encouragement and advice.
Now we are looking a bit tidier we are going to concentrate on getting our space up to full speed - so many things are happening now, so please drop in and see us. We are usually there Wednesday nights and Sunday afternoons for casual drop-in, but check out meetup site for full details of all our events.